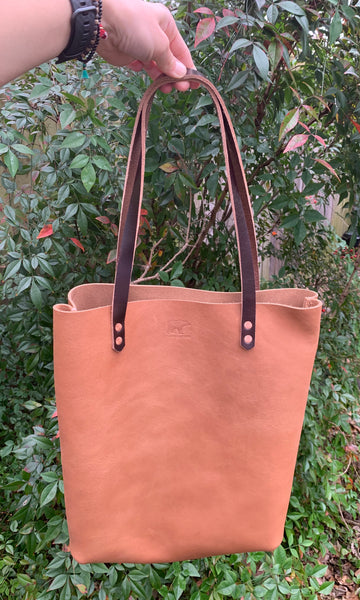 Shopper Tote - By Bear Club Leather
SO SORRY GUYS THIS ITEM IS SOLD OUT! WE HOPE TO GET MORE IN SOON! PLEASE VISIT THE ARTIST PAGE ON SOCIAL MEDIA PAGE, ETSY OR THEIR PERSONAL WEBSITE TO PURCHASE. THANKS!
Loving this tote made in Texas by a small business called Bear Club Leather. Check out Manny and Sofia's Story online too everything they make is great! Thanks everyone! 
Each tote shown is the actual bag that's for sale. This one is the 
These bags may have additional shipping because of size of the box they need to ship. So you are looking at a $10 flat rate domestic shipping cost! 
Also, please note- the Grey totes easily show scratch's - so if you are sensitive to that may want to get another color, it is intended though- that's just the style of leather and it looks great warn in! 
Bear Club Leather
Houston, Texas